We are working to provide all types of gum Arabic hashab, which is one of the finest types of gum Arabic in terms of its ingredients and is produced from hashab trees. Gum Arabic was approved by the American Food and Drug Council in 1974, and studies have proven that gum Arabic is free of toxins. It is known that the hashab tree has spread in separate areas of Sudan, especially Kordofan.
Kordofanian gum is known for its white color, and it resembles tears, with a diameter of about 3 cm. It dissolves quickly in water and is exported as follows:
Premium Gum Arabic Hashab
Kordofan Clean Gum Arabic Hashab
Kibbled Gum Arabic Hashab
Mechanical Powder of Gum Arabic Hashab
Spray-Dried Gum Arabic Hashab
And because Hashab gum is characterized by being quickly affected by external factors and climate changes, we work according to the food safety system known as ISO 22000 /2005, to ensure the safety of the product from any effects.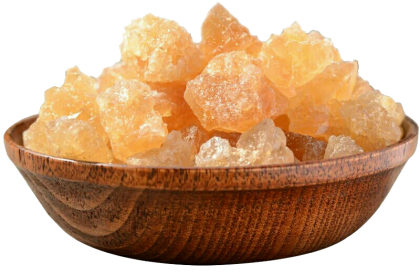 Mechanical Powder of Gum Arabic Hashab:
This is the simple and common method in which the gum is sorted (manually or automatically) and then sieved, crushed and packed in a size of 200 microns with a balanced and intact  quality to ensure the optimal use of the consumer and present it in the forms of different packages, including 250 grams and 500 grams, etc. It meets the needs for exporting large quantities, and one of the most important features of our production of the mechanical powder of Hashab gum is its high quality and that it's completely free of any impurities.
Spray-Dried Gum Arabic Hashab:
Al-Alawi has a factory for the production of spray-dried gum arabic hashab, where the gum blocks are dissolved into an aqueous solution that is completely filtered and purified, as well as serialization and pasteurization to obtain a product with nutritional and medical specifications and capable of being exported in packages of 500 grams and 250 grams for local use and also exports.
spray-dried gum arabic has many benefits, Al-Alawi works to excel in its production and provide high quality according to the required standard specifications.